Helpful ideas for solar based power systems on your boat.
Disclaimer – This is purely for educational and research purposes, We are in no way responsible for any monetary loss/gain you make using this, I highly encourage you to view this as a learning resource and not as professional advice.
Below are some interesting links that we have collected from some of our cruising clients. At Klacko, we do our best to give the best advice on eco based power as possible, however our strength is in fabricating strong ocean ready methods to hold your solar panels and wind turbines. Our belief for a good system is to start with as much battery storage as possible and use efficient electrical devices and practices. Most cruisers have reported using 200-250 amp hours per day to live aboard comfortably. Keeping the panels shadow free and out of harms way seem is the next priority…and that's where Klacko comes in. Check out our page on SOLAR/DAVIT/RADAR/WIND Arches
Making it to the top of our list for great information and videos
MARINE HOW TO; DIY INSTALLATION AND CONSULTS
WILL PROWSE SOLAR YOUTUBE INFLUENCER
---
Batteries
You should always focus the most attention to building your battery bank. It is by far the best $/W investment you can make on your boat. Unfortunately, locating space for them is the main issue. Typically we see our clients using approx 200-250 Ah per day on average. Also, the larger your bank the better your wind and solar will be. There is zero gains in having 1000W of solar and only 200Ah of lead acid/AGM battery storage.
Here is a great video explaining the basics of battery charging Lead Acid batteries.
Battle Born Batteries harnesses the power of lithium iron phosphate (LiFePO4) to bring you the most efficient, stable, and powerful lithium-ion battery on the market. Whether you are an RV, marine, or off-grid enthusiast, our batteries are built to help you get out there and stay out there. Just like Nevada, Battle Born Batteries are tough and designed to last.
Below is a very simple and excellent guide that easily transfers to Marine Applications. Thanks to BB for putting such an excellent beginners guide together.
---
Superwind 350 Wind Turbine
Still the highest rated micro turbine on the market for bluewater cruisers
We are the Canadian distributor of Superwind Windgenerators. Consistently rated the most reliable and quietest units on the market. These units are set and forget with industry only self feathering blades.
Practical Sailor Wind Generator Round up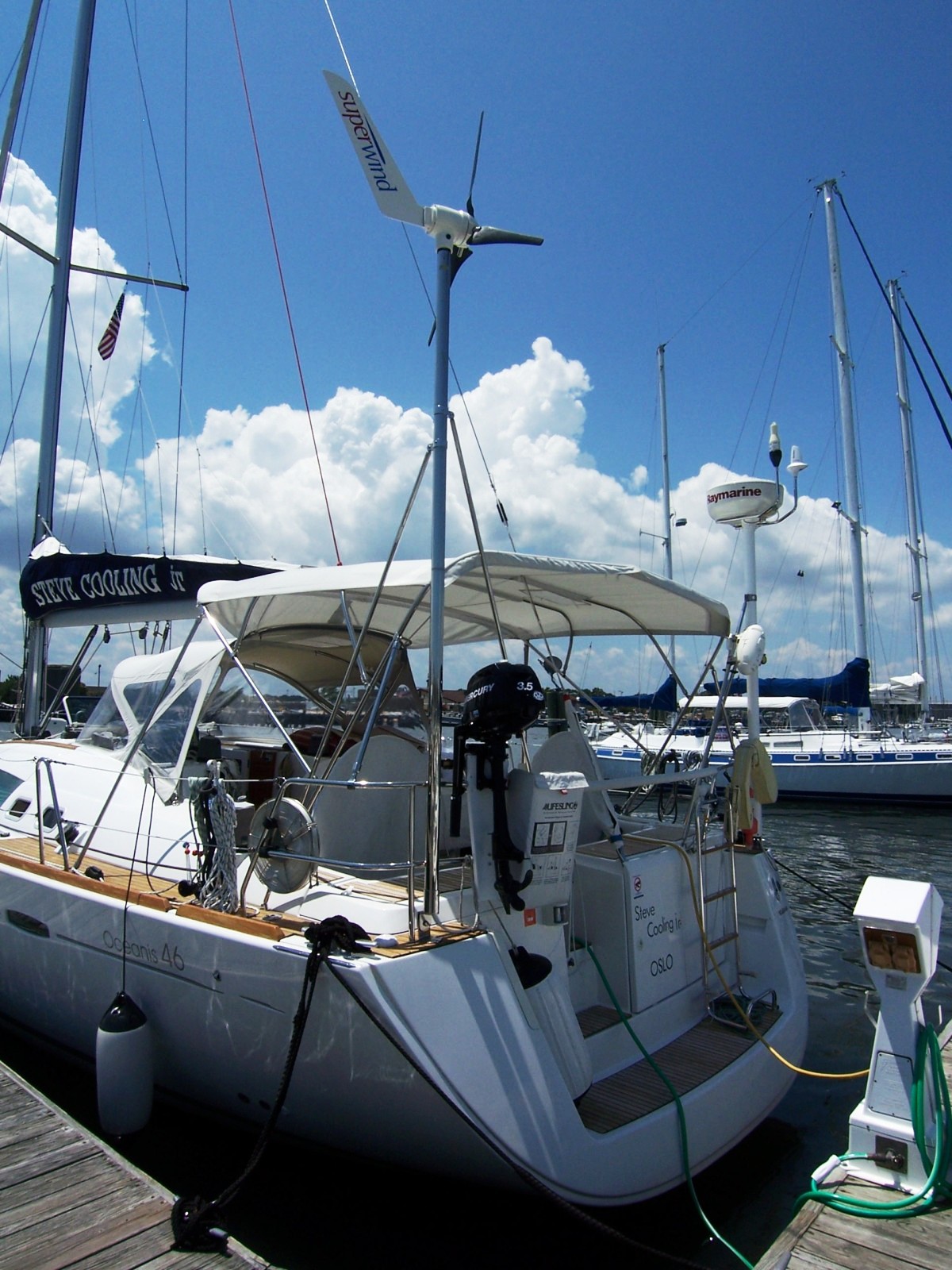 ---
Victron Charge Controllers
#1 Choice for Boaters in boat performance, reliability and tech support
Remotely control and monitor the extensive features of your SmartSolar MPPT charger with built-in bluetooth by pairing it with your smartphone or other device via VictronConnect. If your installation is connected to the internet Victron Remote Management Portal (VRM) provides access to the full power of your MPPT, anytime, anywhere; both services are free to use. For remote installations – even when there is no internet connection or phone signal nearby – you may be able to monitor your MPPT by bluetooth-pairing with a LoRaWAN(long-range wide area network) device, available optionally.
We think the 'smart' functions that allow you to connect to your smart device or via internet is a great way to monitor your solar systems. Clients have reported 5 stars on their victron purchases.
Victron Charge Controllers Link
---
---
MPPT vs. PWM Solar Controllers
---
A fun and simple video showing ins and outs of solar on a boat, thanks to the Wynn's
Solar Parallel Setup for Shading
A tremendous wealth of info can be found from our friends at

Distant Shores TV
---
Great installers for electrical systems in the Great Lakes
Longitude Marine St.Clair Shores, MI
A new way to mount solar over your Bimini
We are constantly asked if a Canvas Bimini can support glass solar panels safe and effectively. The answer is a resounding NO. Yes, we all have dockmates who have loaded their bimini tops up with one or two solar panels and sailed the lakes for 20yrs with no issues. However, I have lost count of the number of stories I've heard that when these lake cruisers head south and into real ocean conditions….how fast a perceived 'tested' system is suddenly off the boat and sinking to the bottom.
See a Client's Project Blog on his Solar Install. Click Here
1″ tube tied in with set screwed bimini deck fittings just can not handle the dynamic loads of ocean swells and wave action, especially laterally.
So the age old solutions to solar mounting has been on rear davit cross bars, deck or dodger and on top of an arch. The davit arch is by far the best solution however is not always an economical route. As such, we have developed a smaller and minimal arch for just solar panel mounting alone. This design is then tied into the sternrail pushpit for addition stability.
Our Favourite Solar Mounting Hardware
Remember the original rail clamp which was manufactured by Helm Products HR200? Zarcor
Sealing wiring slots in stainless tube; these Trim Lok  trim seals work well over tubing. Can be found HERE
Marine Rated U-Bolts for tube sizes found HERE
…to be continued (feel free to send your recommendations and advice)