Warning
: Undefined array key "file" in
/home/klackoca/public_html/wp-includes/media.php
on line
1686
Canadian Superwind Distributor
Klacko Marine is your source for the Superwind SW350 Product line. We have successfully distributed Superwind Products for over 15 yrs. Our two companies share a devotion for products that are simple, effective and built to last. Pricing Here
THE NAME SUPERWIND IS SYNONYMOUS WITH SURVIVAL.
Most professionals will use only this commercial/professional rated equipment, is they likely have had to use something else in the past, and it didn't work very long. And, for those same professionals, "survival" isn't enough – it has to make reliable power. Superwind turbines do both.
Micro-wind turbines (electric wind generators typically 100 to 2000 Watts) have been around for well over 50 years. They were fun for hobby types, useful for sailors on sailboats who knew when to leave them off, so they did not self-destruct in high winds. There was high speeds, noise and vibration. All kinds of rotors combined with an alternator, were sold as "wind turbine". Some of these products had properly balanced rotors and worked nicely at medium winds – but the main characteristics of nearly all of them, was the absence of an efficient and reliable technical concept to survive gales and storms. If nobody was around to stop these turbines by any means before the storm, they just blew apart. These turbines were simply not designed for autonomous operation as there is no place in the world free of storms. So it is no wonder why so many off-grid professionals as well as their customers who paid for these types of hobby wind turbines had a very bad feeling about "wind". One really could not blame them.
When Martin van Egeren and Klaus Krieger founded superwind GmbH in 2004, they had the goal to change this – and brought to the industry some much needed common sense and some good German Engineering. By working directly in the field with off-grid end users, superwind could focus on the real world need. And they knew, it is all a matter of quality. But it is not only the quality of the materials, parts and components. It is the quality of an integrated concept to allow autonomous operation by preventing over-speed.
Wind Dynamics
Over-speed is one of the most well-known turbine terminating factors. When a low quality turbine is launched over-speed by high winds, it rapidly starts shaking its mast or rigging, it heats up and wears out its bearings, it overpowers its stator and is forced to either absorb the energy as heat, or discharge high amperage into the charge controllers and/or overcharge fragile but expensive battery banks. Basically in wind turbine terms "over-speed" means repeated steps of escalating damage until the ultimate failure of some, or all, of the equipment is reached.
Superwind Turbines avoid over-speed operation through their patented and real world proven auto-feathering blade system. This is not new to us. We have been proving the worth of this advanced robust technology for over a decade. How it works is one of the best questions our customers ask: As the force of the wind moves the turbine into rated power speeds (about 25 knots), at this point the blades automatically change their pitch into an angle to reduce their aerodynamic lift, in real time. This means the blades' 'feathering action' occurs in micro-moments, and the blades automatically recover to their normal position as the wind force lessens. The blades can actually pitch up to 40 degrees! The technology that allows this simple operation is quite remarkable, yet is robust enough to operate for a decade or more – even in Arctic and desert conditions.
Yet, ultra quiet operation, an Auto-Feathering Overspeed-Avoidance system, the highest quality saltwater materials and proven power production in modest to high winds, is still not enough to satisfy the engineers at superwind. With nearly thirty years of wind turbine experience, we at superwind knew that our customers needed more. We knew that a turbine does not work by itself – it is part of a larger system, and successful integration means more than selling a wind turbine. So superwind set about to build a better charging strategy, and in doing so achieved a new milestone.
The key is to combine the Auto-Feathering Overspeed-Avoidance system with a diversion control charging system. This way, the turbine can be left working continuously, allowing unattended operations (making power) at all times. By charging the batteries within the manufacturers specifications and dumping the power only after the batteries are fully charged, we have created a charging system that is truly autonomous, reliable and highly efficient. Today our system is so advanced that we are offering the only micro-wind turbine 'Valance Verified'- meaning we are qualified to charge Lithium Iron Magnesium Phosphate (LiFeMgPO4) batteries and energy storage systems.
Off Grid Compatible
Another question we are frequently asked is whether we can work with other charge sources? YES! The Superwind was designed to work alongside solar panels, fuel cells, etc., and we are often partnered with diesel generator systems as we are great in delivering fuel conservation advantages in windy areas.
Because our valued commercial clients often use Superwind turbines proximate to SatCom stations, communication antennas, sensor nodes and even weather and seismic equipment (on tsunami detectors at sea for instance), we have taken the additional steps to remove electronic noise and magnetic vibration by utilizing a brush-less offset AC stator to produce power, then added RF Gain dampeners to the rectifier to assure no interference from turbine power generation and transmission. All Superwind 350 turbines are DC output and available in 12v, 24v 28.8v) and 48v. It is also worth mentioning that at no time do the special features of a Superwind turbine interfere with making power. Click here to see our SW350/353 power curve
If you think about it, our reputation is based on the off-grid professional, hopping aboard a $4,000.00 roundtrip helicopter ride to a communication tower atop a mountain to install a micro-wind turbine which helps to power lifesaving equipment. You might ask if that is the time to save money by using a cheap hobby wind turbine? For our experienced customers, the answer is clear. And that is the reason why every Superwind is tested to the same high standards.
There are many mast options to integrate a Superwind. The good news is that often a Superwind can be installed on locally sourced mast structures, even those masts once occupied by failed turbines! Once properly installed, the Superwind can work for decades where the other turbines failed in months or weeks.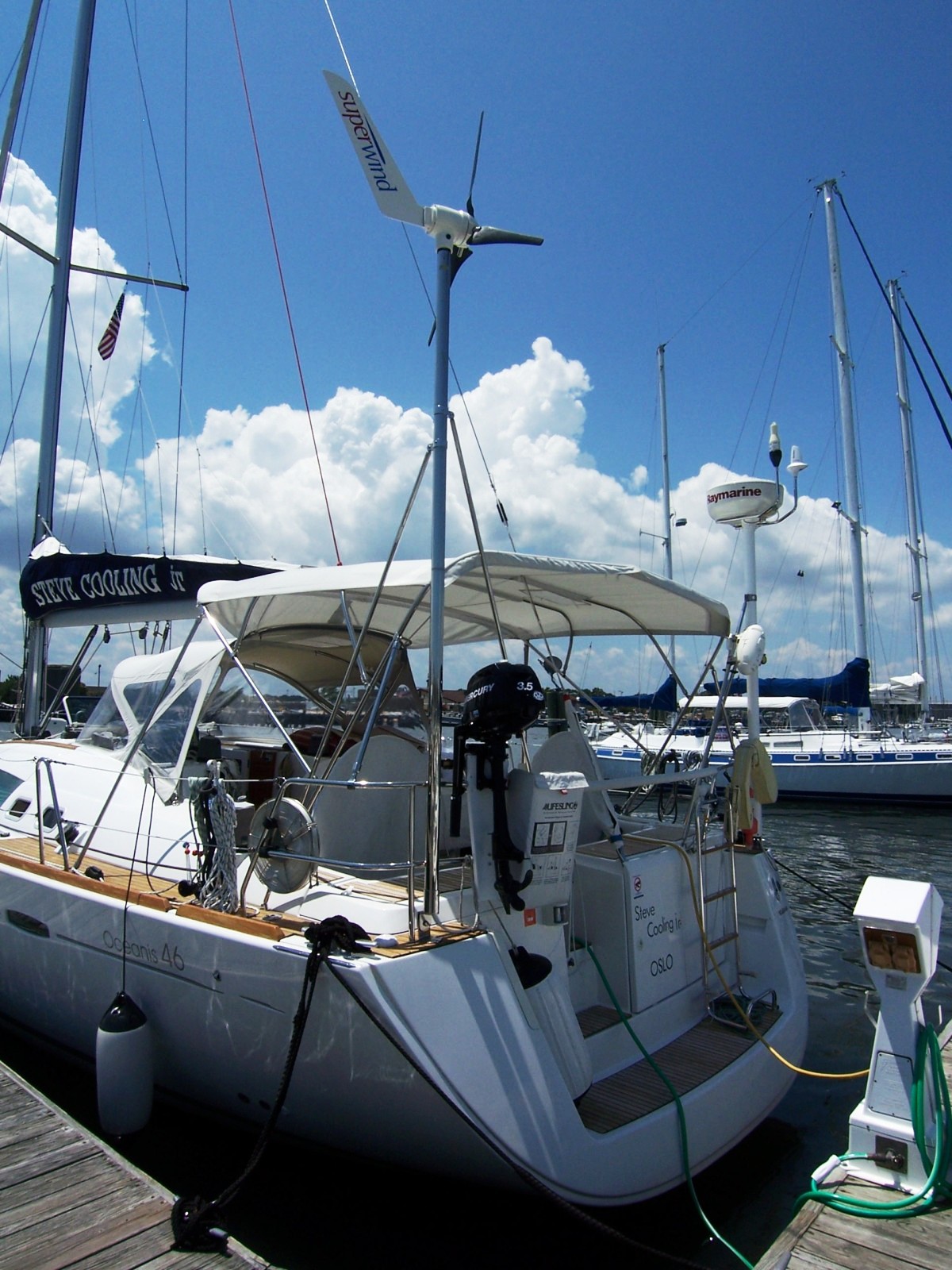 In 2022 Superwind Gmbh stopped all production of the SW-350 'original version' and starting September 1st, 2022, only the Superwind 350-II will be produced, phasing out the original SW-350. Original versions of the SW-350 will continue to be available until sold out. Please also note that the only difference between the SW-350 version (production 2002 – 2022 the original) and the SW-350-II is the STAR Hub technology. All other parts including blade sets and electronics are exactly the same.
2022 Superwind Pricing and Availability
*all pricing subject to change
Superwind Turbine *LIMITED QUANTITIES AVAILABLE*
SW-350 V.1 (2002 – 2022)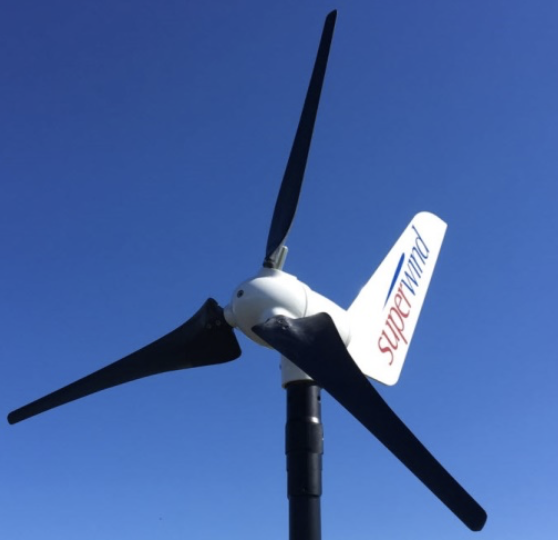 The Superwind 350 V.1 has had two decades of success and thousands of integrations world-wide for a good reason. The rotor based over-speed control – Superwind's famous 'furling' blades, has allowed this micro wind turbine to survive high wind speeds all the while producing electric power from 8 mph to 90 mph. No other wind turbine in it's class can match this track record.
The Superwind 350 Kit comes complete with a dedicated external charge controller, a weather resistant diversion load, a stop/run switch, Delryn mast integration busing and manual.
The 12V Version is White with Black Blades. 24V and 48V Versions are Black with Black Blades. All turbines are 'voltage specific' meaning the turbine must be ordered in 12V, 24V or 48V – and voltages are not interchangeable.
$2,850 USD. Note: The SW-350-24V is no longer available in this version
---
Superwind Turbine
SW-350-II (2022 – present)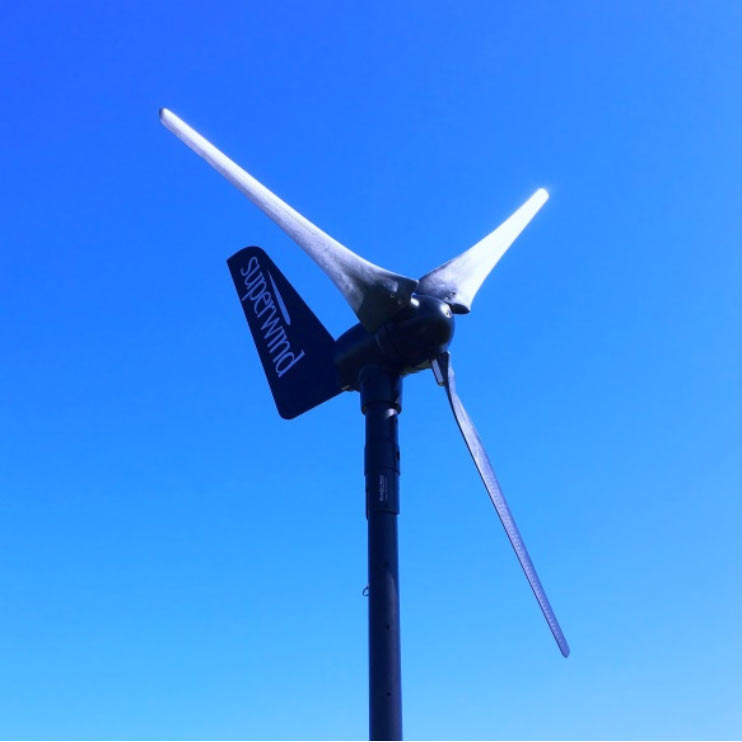 The SW-350 II combines the hardworking history and capabilities of the original (2002) SW-350 with Superwind's "Star Hub" (Synchronous-Technology-Autonomous-Rotor) system technology .
The SW-350 II; blades, charge controller, diversion load, safety switch, etc. are the same technology as the original SW-350 – as is the mast integration.
The 12V Version is White with Black Blades. 24V and 48V Versions are Black with Black Blades. All turbines are 'voltage specific' meaning the turbine must be ordered in 12V, 24V or 48V – and voltages are not interchangeable.
$3,450 USD
---
Optional SW-350 (V.1 or V.II) High Visibility Blade Set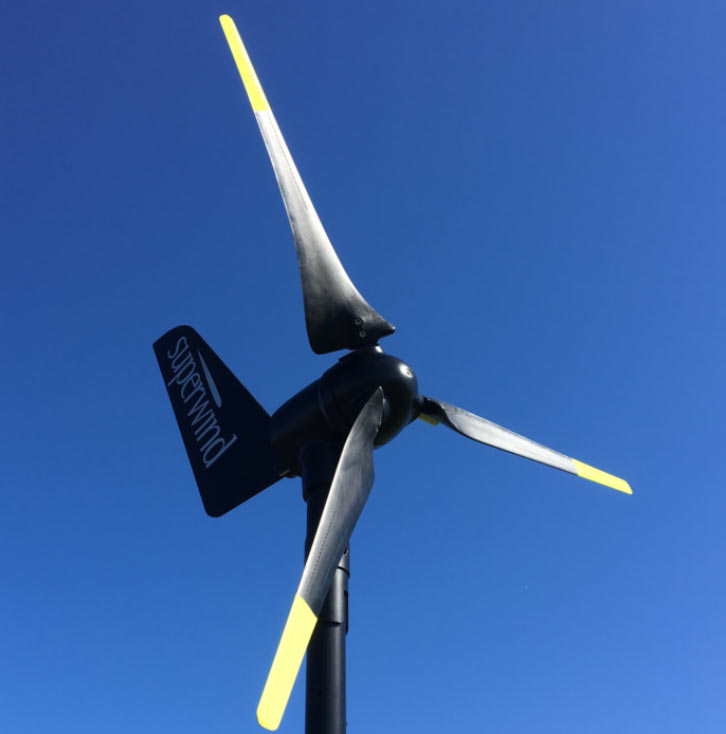 Developed by the French Coast Guard in 2004 for use on their lighthouses, the special yellow green color high visibility paint allows for proximate awareness in low light conditions (such as dusk and dawn) – even during operation.
Like the Standard blade set, these special blades are only sold as a set – and balanced by both pitch deflection and weight.
This option is only available for SW-350 turbines (original and version II).
$ 450
---
SW-353 (2017 – present)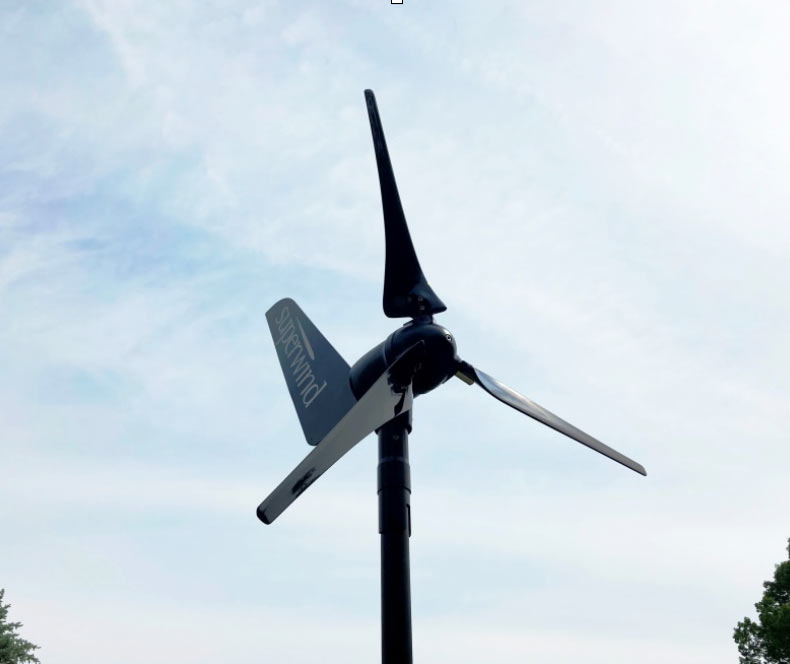 The SW-353 was the first micro-wind turbine (a turbine under 1000 watts) to utilize STAR Hub technology – all three blades pitch simultaneously during high and cross wind events.
The SW-353 is the same size and near the same output as the well known SW-350 however Superwind customers asked for a more robust wind machine for uniquely harsh locations. Superwind added a back-bearing and the Star Hub technology (as found on the larger SW-1250) – thus creating something more than simply a heavy duty 350. All SW-353s also feature a stainless steel mast bushing as well as very durable hand-wrapped gel coated fiberglass blades. It should be noted that the SW-353 does use the same electrical components as the traditional SW-350.
$3,950 USD
---
SW- 1250 STAR Hub Version
(2017 – present) *for commercial use only and special order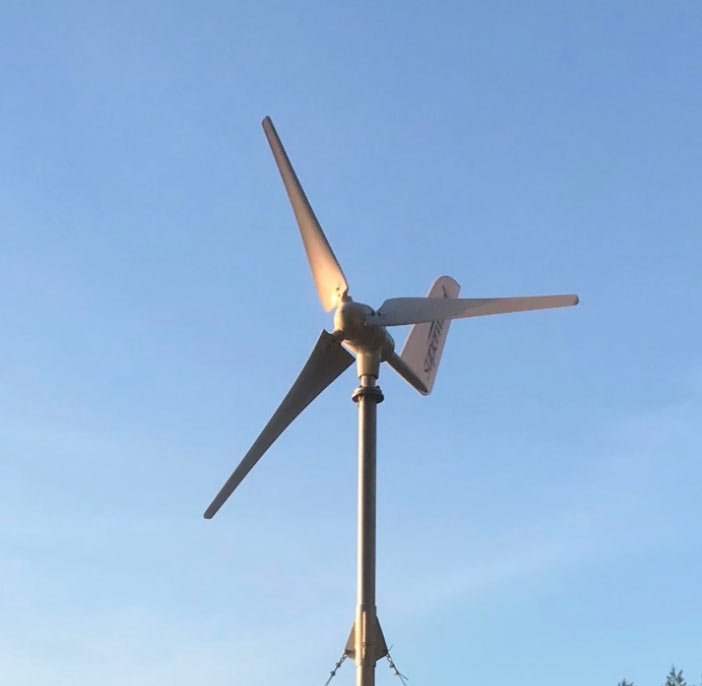 The SW-1250 is more than a larger version of Superwind's famous SW350 wind turbine. The SW-1250 was the first turbine to feature the "Star Hub" system (Synchronous-Technology-Autonomous-Rotor) as well as both a dynamic breaking system as well as a physical disc brake.
With power production ranging from 8mph to 90 mph, the SW-1250 reaches an impressive 1.3kW at only 25 mph and continues making the rated power all the way to 90 mph.
Starting in 2021, the SW-1250 will only be available in 48V and due to high demand, is a special order only product. Please contact us directly for more information.
$8,500 USD
---
How much wind do you need to make power? Charge Curve for the SW350
Lithium Battery Bank (LiFePO4) + Superwind SW350 Charging Battery bank with Superwind
All superwind 350 turbines share the same installation manual. SW350 Technical Manual
Klacko Stainless Steel Mast Kit for SW350
Designed especially to integrate a Superwind 350 aboard any quality sailing vessel, the Klacko Marine Mast Kit is comprised of polished stainless steel components designed to last years in salt water conditions. The main tube stands 9′ above deck and is built from 2.25 " stainless steel tube that has been electropolished to give a high gloss appearance. Also included are two 7′ stanchion supports made from 7/8″ tubing. This mast kit includes a custom base that is flexible enough to accommodate any ship integration, including reverse transoms, stern pulpits accessories, etc.
Finished Mast Weight – 40lbs.
Marine Delrin Bushing Instructions